Sewer Ejector Pump Service San Diego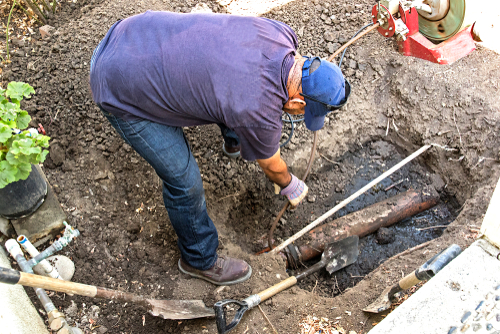 Sometimes the pipes in your home need help carrying waste-water and solids to your septic tank or city sewage system. If you've ever dealt with sewage back-up or flooding issues, a sewage ejector pump may be what your home needs.
Sewer ejector pump service San Diego takes care of the installation, maintenance and repair of your sewage pump– ensuring everything flows and stays where it's supposed to.
Do I Need Sewer Ejector Pump Service San Diego?
If your home has a bathroom in the basement, or if you have your own septic tank, then a sewer ejector pump is an important tool for your septic system. Below-grade areas in the home often require the help from a sewage pump to encourage the flow of sewage waste and keep it from backing-up into the pipes and into your home.
Even if you already have a sump pump to prevent naturally-occurring water from flooding the basement, you still need a sewer pump to handle and pump the larger solids from sewage.
What is Sewer Ejector Pump Service San Diego?
When you contact a sewage professional for sewer ejector pump service, they can advise you on whether you need sewage pump installation for your home's system. If you already have a sewer ejector pump, then they're the ones to call for routine maintenance, repairs and replacements.
If you need sewage pump installation, a pump professional can advise you on the type of pump your home or commercial building needs, and will dig a hole in the lowest part of your basement to install the pump.
If you currently have a sewer pump and yours is acting up, sewer ejector pump service San Diego will diagnose the issue and remedy the root cause of the problem, before any major catastrophes occur. Sewer pump malfunction includes:
Not running despite rising sewage levels
Constant running
Abnormally loud noises
Waste backup or flooding
24/7 Emergency Sewer Ejector Pump Service San Diego
If you do ever experience an emergency with your sewage system or pump, call the experts at Fox Pump Systems – day or night – for around-the-clock emergency service!
Contact our team today with any questions about your sewage pump, or fill out a free service request for your home or commercial property.
La Jolla
Del Mar
Rancho Bernardo
Carmel Valley
Point Loma
Rancho Santa Fe
Escondido
San Marcos
Chula Vista
Rancho Penasquitos
Carlsbad
Encinitas
Oceanside
Solana Beach
Cardiff by the sea
Olivenhain
Vista
Temecula
Riverside
Fallbrook
4S Ranch
Santa Luz